Have a motherboard that requires an EPS12V 8-pin power connector but your high quality power supply does not come with this connector ?
This device is the solution. It converts a regular peripheral power connector to a special 8-pin power connector for the server/P4 motherboard.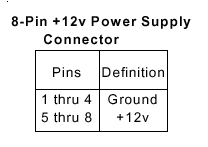 Upgrade universal version
Volume Discount Pricing ?
YES. Scroll up to the top of the page, enter quantity more than 1, and add to cart to see discount.