HIGH POWER® SFX400-BR is a high efficiency 80plus Bronze certified and reliable safety certified upgrade power supply that fits and works in a wide-range of small PC systems. Supported form factors include SFX, PS3, micro ATX, and most mini ITX chassis that don't use an AC power adapter.

Proven to support high efficiency low heat systems as well as the latest gaming PC systems equipped with single or dual PCI-Express video cards. Its compact size allows more air flow inside the case and makes installation very easy. The sophisticated on-board fan speed controller ensures your power system is sufficiently cooled while keeping the fan noise down.




High Efficiency PC Power Supply



Solid 400 Watts Performance with heavy duty single 12V Output @ 24A (288W)

Standard SFX Dimensions: 125 (w) x 63 (H) X 100 (L) mm. Install in ATX or PS3 micro tower case with included mounting bracket

TUV, UL, CB, CE, FCC Safety & EMI Approved
Ecova approved for minimum efficiency of 82%. 85% minimum efficiency at 50% load
EuP 2010 Lot 6 Compliant (System Idle power usage less than 1W)
Active PFC Full Range with Automatic AC input selection - no need to select 110v AC or 220v AC
Dual PCI-Express power connectors

Built-in Triple Protection: Over-Voltage Protection, Over-Power Protection, and Short-Circuit Protection
Galvanized steel casing for long rust-free protection with black color coating

RoHS Compliant - made with hazardous-free components

Full safety approval from FCC, UL, cUL, CE, TUV, and CB.

EuP 2010 Lot 6
Compliant


RoHS Compliant

80Plus Bronze

Certified




400-Watt continuous

450W Peak




Active PFC technology
Auto AC input switching



4x SATA








Power Connectors Summary:

1x 24pin Main Connector
1x 4+4pin ATX/EPS 12V Connector
4x SATA Connectors
2x 6+2pin PCI-Express Connector
2x 4pin Molex Peripheral Connectors
1x 4pin Floppy Connector
HIGH POWER
®
Universal Fit
with Included ATX/PS3 Mounting Bracket
Technical Specification


RoHS Compliant - made with hazardous-free components

RoHS is the Restriction Of the use of certain Hazardous Substances in electrical and electronic equipment. This has been a standard in Europe and is now becoming a standard in the world. Not only lead, but cadium, mercury, hexavalent chromium, polybrominated biphenyl (PBB), and polybrominated diphenyl ether (PBDE) flame retardants are limited as well.
Active PFC Full Range with Automatic AC input selection - no need to select 110v AC or 220v AC
AC input from 100V to 240V
Outputs: +3.3V@12A, +5V@12A, +12V@24A, -12V@0.3A, +5VSB@2A; +12V total output: 288W, +5V/ +3.3V Combined output: 100W
Typical Efficiency: 87.55%
Average Efficiency: 86.47%
Built-in Protection: UVP/OVP/OPP/SCP
Model: KT-S400FX-ABR
Safety: FCC,CE, TUV, CB,UL,cUL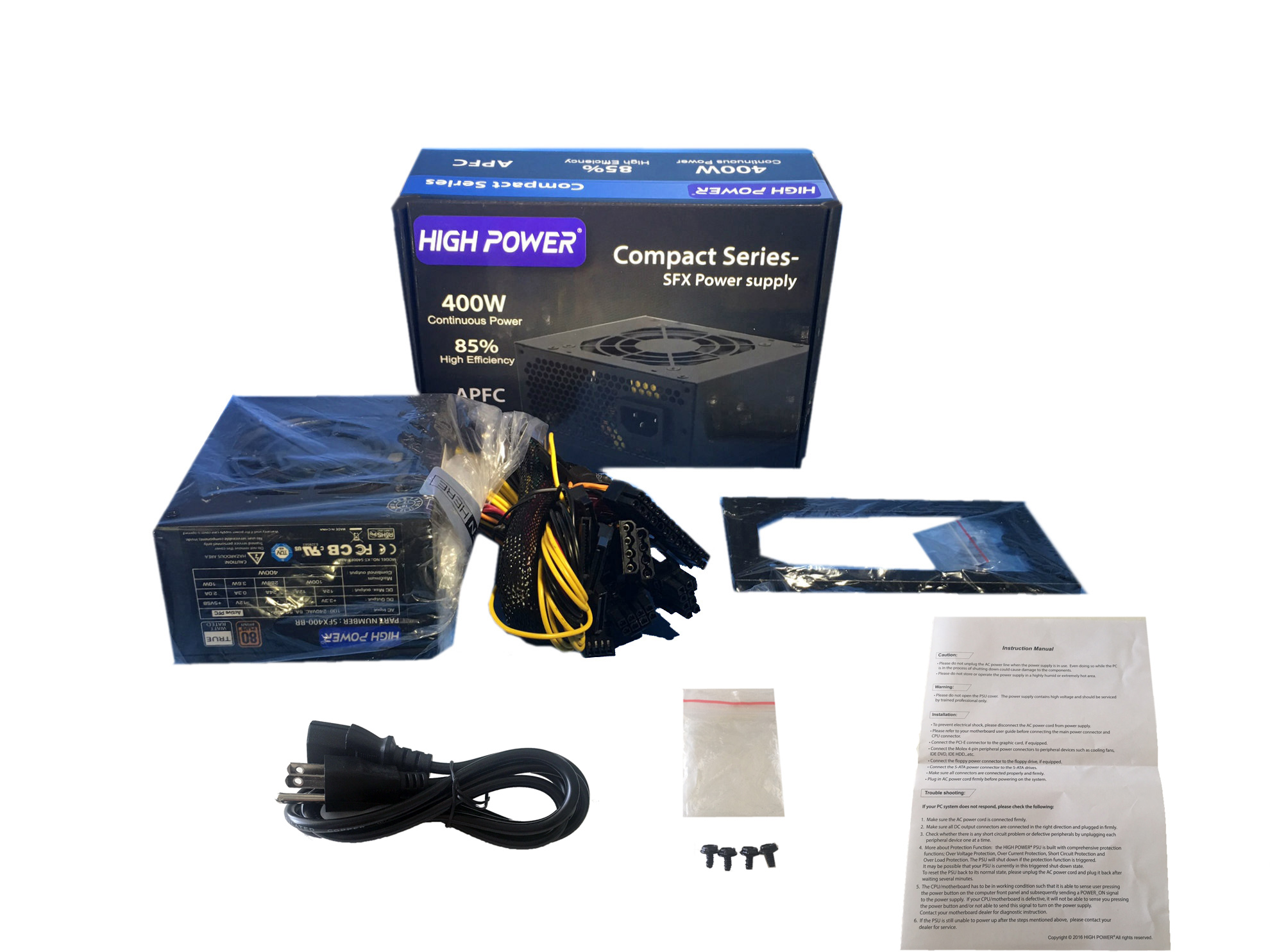 MSRP: US$ 59.99